Save up to 75% energy with sous-vide?
Our experts (Kenners) have developed custom made neoprene insulation covers for the standard polycarbonate sous-vide water troughs. We have tested this extensively and you save up to 75% energy in combination with insulation balls. This is because hardly any water evaporates through the insulation balls and much less heat escapes through the walls through the neoprene cover. You can now order complete insulated sous-vide water troughs, including sous-vide water trough / reservoir, a lid, an insulating neoprene cover for the lid and a cover for the water bowl. All in all for maximum savings on your energy bill.
Click on this link to view the range of insulated sous-vide water troughs.
We tested our insulated, energy-saving sous-vide water troughs extensively and the results were great. Not only do you save a lot of energy (75%) but the evaporation of water is also much less (90%) so you don't have to top up more water, especially during long recipes. In addition, your precious sous-vide stick has to work much less hard, so it lasts considerably longer. So you not only save on energy, but also on your equipment.

The test results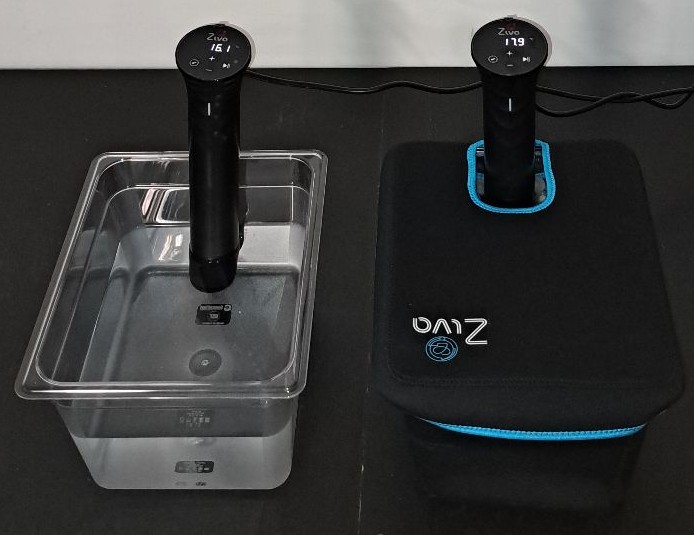 We tested two sous-vide water baths under exactly the same conditions, in the same room at the same ambient temperature (about 19ºC).
The sous-vide bath was heated to 60ºC for 12 hours.

The first test was conducted with the reliable Ziva Savant sous-vide stick (1200W) and a 12 liter Medium sous-vide water bowl without a lid .
The second test was conducted with the Ziva Savant, a 12 liter Medium insulated water bowl set with lid and Ziva sous-vide insulation balls (250 pieces) .
During the first test, the sous-vide stick consumed a total of 2,775 kW.
During the second test (our maximum insulated water bath with insulation balls) we only consumed 0.704 kW.

That is a saving of 2 kW or almost 75%.
In addition, the water had almost completely evaporated during test 1, but hardly any water had evaporated during test 2. A lid on your sous-vide water bowl is already quite effective against evaporation, but the combination lid with sous-vide insulation balls works the best.
Do you also want to save up to 75% energy during sous-vide cooking?
And did you know that you can save even more energy with multicookers and airfyers, especially that combination? The Instant Pot brand has brilliant multicookers and high-quality airfryers that allow you to save up to 84% energy compared to traditional cooking equipment, such as electric ovens.
In this article we explain exactly how it works and you will find an independent report that showshow big the savings are and how they have determined that.