Want to improve your sous vide knowledge and cooking skills online?
Then the Cooking Academy by Robert Verweij (also known from TeesT Culinary Training) is for you! And they offer not only sous-vide, but also 11 other topics that you can learn all about at your own pace, when and where you want.
How does it work?
You learn everything about technology, food safety, what you can and cannot prepare with it, what you need for it, how regeneration works and much more from the comfort of your home. A team of specialized culinary experts will teach you techniques and show you processes that allow you to make your own dishes. You don't have to show up on location and the costs are relatively low for the wealth of knowledge you gain. Normally the costs of a "live" course are about € 200, -.

We are very impressed with the extensive sous-vide course and the 11 other topics from 8 experienced culinary teachers that you can follow. That is why we strongly recommend these courses to everyone!

Sign up for a free trial lesson today and see for yourself!
You can follow the following courses (with free trial lesson):
Sous Vide
7 modules / 49 lessons
This cooking course is about meat, fish, vegetables, eggs, desserts, vacuum sealing, poultry, time and temperature. With us you learn the cooking process and control, so that you cook better, healthier and more varied sous vide.
Spare Ribs (mini course)
1 module / 20 lessons
You need a lot of knowledge to prepare spareribs. About heat, cooking, muscle and connective tissue, the Maillard reaction, marinades and cuissons. Sous-vide is also covered in this extensive course!
Now temporarily even free with discount code SARERIBS-FREE-202 (until the end of December 2021)

Meat
6 modules / 67 lessons
You need a lot of knowledge to prepare meat. About heat, cooking, muscle and connective tissue, the Maillard reaction, proteins, salt, pans, fats, marinades and cuissons. You will find it all in this course.

Fish
6 modules / 61 lessons
Fish is a beautiful, but delicate product. It is important that the fish always remains in its value. In this course you will not find recipes such as "baked salmon with carrots and cream sauce". Here you will learn the basic knowledge and techniques to make beautiful fish dishes for the rest of your life.
Vegetables
6 modules / 69 lessons
In this course you will learn to understand and control processes such as cooking, fermentation, Maillard reaction and cooking processes. This will allow you to prepare your vegetable dish better, healthier, tastier and faster.

Poultry
5 modules / 48 lessons
Poultry is very tasty and (often) affordable. In this course you will not find recipes such as "fried chicken with mushroom sauce". Here you will learn the basic knowledge and techniques to make beautiful dishes with poultry for the rest of your life.
Sushi
4 modules / 47 lessons
In this course you will learn the details of sushi making from sushi expert Arjan Siemerink. From fish scales and filleting to hosomaki and gunkan. From the perfect rice to temaki and sashimi.
Pizza
6 modules / 57 lessons
Simon Giaccotto is the pizza authority of the Netherlands. In almost 50 lessons he teaches you the intricacies of baking pizza. The most important is the dough and the rising process. In addition, he tells extensively about cheeses, sauces, toppings, ovens, hardware and pizza baking.
frying
7 modules / 42 lessons
Frying is a fantastic cooking method. It is very similar to frying in the frying pan, but faster, more beautiful, more efficient and more homogeneous. And in many cases even less fat!
Potatoes & rice
3 modules / 36 lessons
Potatoes and rice are not often the main protagonists. Yet they are among the most eaten products on the planet. We are happy to teach you a number of techniques with which you can take them to the next level.

Pasta
5 modules / 42 lessons
This pasta course consists of 42 lessons with over 2 hours of videos. From flour to dough and from ravioli to gnocchi. All the knowledge you need to make great pasta for the rest of your life!

Baking bread
9 modules / 59 lessons
You learn how to bake good bread from #bakkertje yourself Edwin Klaasen. In more than 45 lessons, he tells you everything about grains, flour, flour, the rising process, recipes, temperatures, ovens and types of bread. The examples he uses are the floor bread and baguette. These are a model for almost all other breads that you can make. After the course you can make floor bread, yeast bread, small bread rolls, sourdough bread, baguettes and ciabatta.
Italian wine
5 modules / 34 lessons
This wine course is provided by Vinologist Robert Verweij, also Recommended Wine Teacher of the Wine Academy. Robert wants to offer practical knowledge in an accessible way that you can use. In this wine course "Italian wine" covers the most famous wine regions in Italy and their wines.
Coffee
4 modules / 47 lessons
The best and most famous barista in the Netherlands is Jeroen Veldkamp. He is one of the founders of the Dutch barista scene and a two-time Dutch Champion barista. He is also a catering consultant and owner of coffee chain Coffeelab. He now shares his vast knowledge in this online coffee course.
SDEN 1 - wine vignette
4 modules / 22 lessons
Chef and vinologist Robert teaches you more about wines, tasting and the different wine regions in this starter course. He tells light-hearted and accessible, so no dusty stories with difficult language. So you get practical knowledge that you can really use.
SDEN 2 - wine charter
4 modules / 31 lessons
You can do a lot with wine, but in the end it is always made to drink. However, it matters a lot how you serve wine. Glassware, temperature, these are all factors that influence the taste. You will also receive detailed explanations about the differences between all wine countries and their best-known areas.
SDEN 3 - wine certification
5 modules / 39 lessons
Get your wine license with this wine course! After this you are the absolute wine connoisseur / vinologist and you know everything there is to know about wine, from the origin of wine to the best wine and food combinations.
Tea
7 modules / 51 lessons
In this practical tea course you will learn to get the most out of your tea. You and your guests will enjoy beautiful tea much more. Tea sommelier Mariëlla Erkens teaches you everything about the best water, steeping times, proportions and the types of tea.
Beer
11 modules / 70 lessons
In this extensive beer course you will learn everything about production, tasting, ingredients, glassware, styles and much more from the Netherlands' best beer sommelier Fiona de Lange.
Sign up for a trial lesson today and see for yourself!
Introduce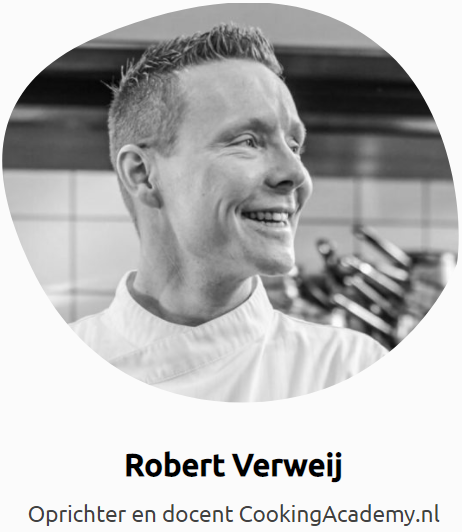 Robert Verweij is owner and founder (2003) of TeesT Culinary Courses. He provides the wine courses himself, the cooking courses and cooking workshops he provides together with specialized teachers. Robert is known for, among other things, the TV program Life & Cooking and has been giving cooking and wine courses offline for more than twenty years, and now also online.
The benefits of Cooking Academy for you
Free trial lessons of all subjects so you know what to expect.
Excellent price you won't find anywhere else.
Cozy, inspiring community full of foodies and chefs.
Unlimited access to a forum where you can ask questions, share recipes and even start your own group.