Top 5 best vacuum machines for sous-vide and storage + explanation and tips about vacuum sealing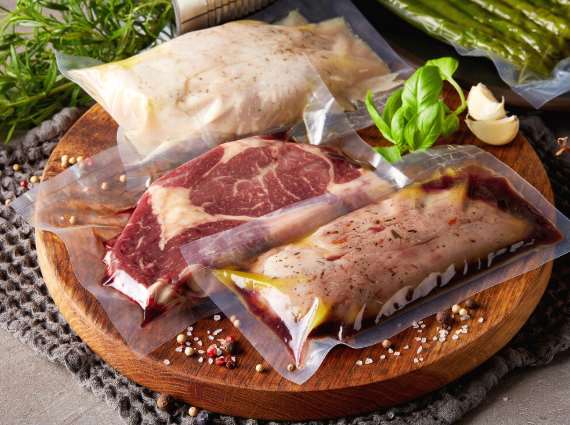 Vacuum packaging (also called vacuum packaging) is fun and convenient, with the right vacuum packaging machine. You can save a lot of costs and food with it because you can keep it much longer. In addition, vacuum packaging with a good vacuum machine provides (much) better results with sous-vide cooking .
We are happy to explain how vacuuming works and what you need to vacuum pack, so read on. Do you have any questions after reading this article? Then please contact us .
Index
The advantages of vacuum packaging (vacuuming)
What do you need for vacuuming / vacuum packaging?
Below you will find a list of everything you need to get started with vacuuming / vacuum packaging quickly, efficiently and inexpensively (matching your budget and wishes). Click on the links to continue reading on that topic.
suitable for cooking eg vegetables ( not recommended for meat and fish ).
Vacuum packing device (or vacuum packing machine)
Vacuum bags / vacuum foil
Optional: accessories for working with specific products or situations
Tips for vacuuming wet products, liquids and marinades
Before vacuuming, briefly freeze the bag with the product so that the liquid becomes thicker and is less likely to be sucked out of the bag for the vacuum.
Hang the bag over the worktop while vacuuming so that gravity lends a hand.
Use vacuum containers / food containers to vacuum soups, sauces and marinades to keep in your fridge.
Which vacuum machine is right for you?
After years of vacuuming, our experts have put together a clear selection of vacuum sealers that fit different budgets. All machines have been selected with care and experience so that you can be confident that the quality is good. And does the vacuum machine unexpectedly break down? Then we will provide a quick solution (warranty or repair).
Seems deceiving because this compact vacuum machine delivers good results at a low price. The quality of the machine is excellent and lasts a long time. The only "disadvantage" is that you have to press the lid on for the first 3-4 seconds during the vacuuming process (after that it goes automatically). More expensive machines often have a lid with closures that keep the lid closed.
Lowest price and yet very reliable
Fair vacuum (65%): excellent for sous-vide cooking but less suitable for storage.
Reasonable speed (10 l / min): excellent for smaller portions and quantities.
Lid must be pressed for first 3-4 seconds.
Dimensions LxWxH: 390 x 80 x 55mm
Power: 100W
Note: only works well with embossed vacuum bags (do not use smooth bags).
etailed / 15 / ziva-onetouch-vacuum-machine-sealer-7435123879890-01.jpg.jpg "style =" width: 189px; height: 189px; "title =" Sous vide Ziva Sense stick "/>
This elegant and functionally designed vacuum packing machine is by far our best-seller. Powerful and fast enough for a little more at home (and it may cost a little more). The sleek appearance with touch operation has few seams and is therefore very easy to clean. Despite its small size and favorable price, the Ziva OneTouch offers serious performance and possibilities, such as 2 different positions for vacuum (normal / careful) and sealing (wet / dry), and a connection for vacuum accessories such as storage boxes and wine stoppers.
Suitable for vacuum boxes and wine stoppers
This versatile vacuum machine also comes with a hose that you can connect to the special connection in the vacuum chamber. This makes it possible to use certain vacuum accessories such as vacuum storage boxes and vacuum bottle stoppers . (suitable for Caso and Wartmann accessories)
Slightly higher price but reliable, faster, more powerful and more options
Good vacuum (75%): excellent for sous-vide cooking and food packaging / storage.
Reasonable speed (12 l / min): excellent for most home use
Self-closing lid: your hands free during fully automatic vacuum and / or seal cycle.
Dimensions LxWxH: 360 x 150 x 78mm
Power: 110W
Note: only works well with embossed vacuum bags (do not use smooth bags).
This elegant all-rounder has been our best-selling vacuum packaging machine for 5 years in a row. Equipped with almost everything you could wish for at home with excellent performance and yet a very competitive price
High quality vacuum sealing machine
Many functions that even the most experienced vacuum cleaner can handle
Suitable for vacuum accessories with hose .
Achieves deep vacuum (about 75%) and works nice and fast
High ease of use and a self-closing lid
You need embossed vacuum bags for this vacuum packing machine .
pen-water oven-regulator-buy-CASO-VC-150-vacuum-machine-300009-01.jpg.jpg "target =" _ blank "> Buy CASO VC 150 vacuum macine
Foodsaver is a well-known brand with very high quality vacuum products, all possible functions you could wish for, the possibility to connect vacuum accessories via a hose, suitable for working with vacuum foil, high ease of use, and high quality.