Want to buy Roner sous-vide?
Roner has long been known among catering professionals as the brand / device for sous-vide preparation . It is even a verb! Roning is almost synonymous with preparing sous-vide and by "the roner" is meant a sous-vide machine. As one of the first players on the market, Roner has always been the classic go-to solution and most chefs already know this brand from their training. But there are excellent alternatives today.
Roner & sous-vide - the history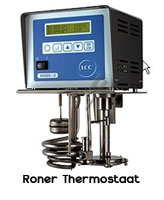 The Roner was developed in the 1970s by the Spanish chefs Joan Roca of 'El Celler de Can Roca' restaurant and Nora Caner of 'La Fonda Caner'; both in the province of Girona. The Roner is a device that can perform au bain marie yarn with extreme temperature precision. The name Roner is derived from their names " RO ca + ca NER ". A Roner is nothing but a sous-vide water oven or sous-vide circulator , which keeps the water at an exact, constant temperature and in motion (circulation). Read more about the sous vide process here . By keeping the water accurate to a tenth of a degree between 50 ° C and 100 ° C and by constantly moving, the product is cooked very precisely and completely.
Sous-vide (or roning) is widely used to bring prepared meat, fish, poultry and vegetables to the right serving temperature and doneness at the last minute. The disadvantage of sous-vide (or ronation) is the cost of the equipment, the need to also purchase vacuum equipment and hygiene (due to the low temperature, bacteria are an extra challenge).
FusionChef by Julabo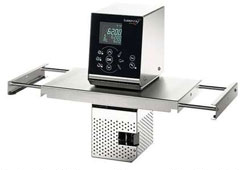 Julabo GmbH has traditionally been a manufacturer of temperature management systems for laboratories. In the 1970s, when sous vide cooking was invented, the early pioneers used such systems. Julabo soon partnered with sous-vide experts and chefs around the world, and the FusionChef brand was born. Made in Germany. The brand represents the very highest quality and performance under sous-vide systems and is used by the most demanding catering professionals around the world.
Sousvidekenner.nl is proud to be the distributor and service partner of FusionChef in the Netherlands.
Our unique emergency service provides you with a replacement device in the event of a defect, so that you can continue cooking while we solve the problem for you.
Quality : industrial / laboratories (very high)
Repair : <1 week in the Netherlands
Sousvidekenner urgent service : super fast a replacement machine that we keep in stock in the Netherlands while your defective machine is being repaired (ask for the conditions)
Special features : automatic data logging for HACCP , connection for core temperature sensor , accuracy ± 0.03 ° C (!)
Service : 2 year warranty
Read here why FusionChef is the very best professional sous-vide equipment for premium restaurants, catering, canteens, butchers, and other high-end professional catering. At the bottom of this page you will find more examples of FusionChef products. View the full range of FusionChef sous-vide machines here .
Bartscher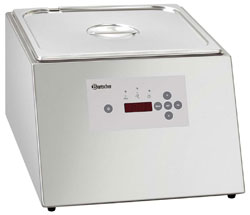 Bartscher is a producer of catering catering kitchen products from Germany. In addition to sous-vide products , they also have a number of vacuum machines , vacuum bags , vacuum foils and vacuum storage boxes .
Quality : professional
Repair : <2 weeks in Germany
Special features : connection for core temperature sensor, accuracy: ± 0.1ºC
Service : 2 year warranty
Polyscience

The American company Polyscience has been active since 1963 in cooling, heating and various high-quality temperature management systems, including culinary sous-vide systems for the catering industry.
Quality : industrial / laboratories (very high)
Repair : <4 weeks in the Netherlands (based on availability / delivery of parts from America)
Special features : accuracy: ± 0.05ºC, maximum temperature: 150ºC
Service : 2 year warranty
Grant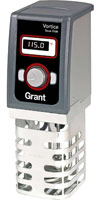 The English company Grant Instruments has been active in laboratory equipment since 1952 and has developed a successful line of sous-vide equipment for the catering industry under the name Creative Cuisine by Grant .
Quality : industrial / laboratories (very high)
Repair : <2 weeks in the Netherlands (based on availability / delivery of parts from England)
Special features : accuracy: ± 0.1ºC, maximum temperature: 95ºC
Service : 1 year warranty
Tre Spade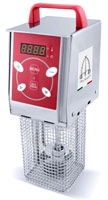 The Italian Tre Spade is a trading company and carries a number of catering, sous-vide and related products, but is not a manufacturer. The roner under their brand is produced elsewhere and is also available under other brand names.
Quality : professional
Repair : <2 weeks in the Netherlands (based on availability / delivery of parts from Italy)
Special features : accuracy: ± 0.3ºC, high power 2000W
Service : 1 year warranty