Professional sous vide for restaurants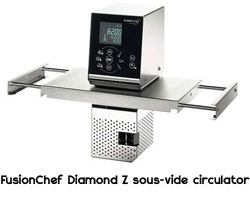 The sous-vide cooking technique dates back to the 1970s and has since made its appearance in many kitchens. The many advantages of sous-vide yarn (also called vacuum yarn ) are now also being discovered by more and more restaurants. Sous-vide cooking is also known as roneren , which comes from the classic device "Roner" (there are now many modern alternatives ) Since then, there have been many developments in the field of preparation and equipment and people therefore mainly talk about sous -vide or vacuum yarn.
Thanks to the convenience and consistent product cooking, sous-vide should not be missing in a good restaurant. Sous-vide is of course also ideal for caterers (catering), company canteens, butchers and high-volume kitchens.
Call us on 085-3012306 for professional advice!
Sous-vide is ideal for restaurants and all other professional catering establishments
Repeatable quality - because the cooking process is extremely precise, the results are the same every time.
Chefs sometimes say: you are only as good as your previous result
Easy to plan - you prepare a number of servings so they are ready to serve at any time. For example, steak only needs to be baked after 45 minutes at about 55ºC for a nice brown layer
Great results - a refined taste and texture that simply cannot be done with any other method
Maximum taste - the vacuum packaging preserves juices, flavors and nutrients better ( Source: USDA )
Evenly cooked - the food is cooked evenly making it equally cooked from the outside in
Sousvidekenner has a wide range of professional sous-vide machines that are ideal for professional conditions and high-volume kitchens.
FusionChef (HACCP certified) for the most demanding restaurants!
Fusion chef stands for advanced, innovative sous-vide equipment "Made in Germany", of the highest quality. Thanks to the exceptionally high quality combined with fast and professional support, FusionChef is rightly a market leader when it comes to professional sous vide cooking appliances. Read more about FusionChef Sous-vide equipment .
The advantages of Fusion chef
View our full range of FusionChef Sous-vide machines .
Easily comply with HACCP using extensive data registration ( Diamond series)
Temperature stability ± 0.01 ° C
Hygienic anti-fingerprint stainless steel housing
15 Pre-programmed temperature memory buttons (fish, meat, groasting)
Core temperature alarm (acoustic and visual)
Efficient HACCP data storage so that you meet the certification without any worries
Easy automatic calibration
Simultaneous display of target and actual temperature, core temperature and timers
PC control and recording
Protection of electronics against damage from steam and condensation
Warranty: 2 years with excellent conditions and service