Freezing meat: before or after sous vide?
Cook the meat sous-vide and freeze
There are two options when it comes to cooking frozen meat with sous vide:
First cook the meat with sous-vide and then freeze it. You only need to regenerate it (reheat) later.
Freeze the meat first and prepare it with sous vide at a later time.
Freezing: before or after sous vide?
If all this talk of freezing, cooling, thawing and slightly lower temperature sous vide cooking makes your head dizzy, just stick to the simplest sous vide cooking method:
Buy your meat
vacuum it as cold as possible
freeze it
heat your sous-vide water bath
cook the meat
sear it (if you want) and
eat it!
Health risks?
With meat, there are serious health risks that can occur if you don't properly handle cooling and freezing. Food poisoning is a real danger and requires the necessary care, including with sous vide. How long the meat remains in certain temperature zones determines the risk. We recommend preparing meat with a core temperature of at least 55 degrees for cooling and freezing to minimize risks, but also to maintain the quality of your product. When freezing raw meat, you can set your water bath a few degrees higher for, for example, the first half of the cooking time so that it reaches the desired core temperature more quickly.
Cool the meat quickly after sous vide cooking
In order not to give bacteria, or at least insufficient, a chance to multiply too much, or to produce harmful quantities of toxins, you should preferably cool a piece of meat from the sous-vide bath with ice water to sufficiently low temperatures to be able to put it in the freezer. to lay.
Danger zone
Americans often talk about the "danger zone": a certain range of temperatures that would be dangerous with meat. However, it is a combination of time and temperature, and in addition, the "danger zone" ends at 52 degrees instead of just the usually mentioned 60. To be sure, keep a core temperature of 55 degrees and cool your product in this way quickly in a bath with ice water or shock freezer.
Buy a good thermometer
SousvideKenner offers a number of high quality thermometers that are indispensable for the serious sous-vide chef: https://www.sousvidekenner.nl/overig-keuken/thermometers/
Sous vide is safe if you know what you are doing
However, a well-controlled sous-vide cooking process with adequate temperature and duration can kill all germs, allowing a safe shelf life of 2-4 weeks in the vacuum packaging (depending on fish, meat, vegetables, etc.). With sous-vide cooking, as well as many other cooking techniques, it is important to work carefully and hygienically. Food contamination problems are very real. So if you are not quite sure about this process, we recommend to follow the simple method which does not include a series of baking and freezing cycles before consuming the food.
Some guidelines for cooking temperatures
You can heat whole meat (in the thickest part plus three minutes of rest) to 63 ° C.
You can heat minced meat to 71 ° C.
You heat poultry to 74 ° C.
Additional freezing tips and hints
If you're buying meat in bulk and you want to freeze it, take the time to place portions in separate vacuum bags. This means you always have a ready-made portion at hand so that you can cook directly in a sous-vide bath. Due to smaller portions, it will thaw and cook more quickly, saving you time and energy again.
AlreadyIf you want to freeze your meat raw in a vacuum bag, add some seasonings to take full advantage of the convenience of sous-vide.
A vacuum sealer is super useful if you plan to freeze meat. With vacuum-sealed food bags you do not suffer from freezer burn.
Look for other sous viders on social media platforms. People are often willing to share their experiences. Always consider getting in touch to ask specific questions if you're not so sure about something sous vide related.
If you first cook your meat sous vide and then freeze it, make sure that when reheating the product is back to 55 degrees within an hour.
Make sure that all the bags you use to freeze food are "freezer-friendly". You want them to be BPA free and also food safe. You don't want to get nasty toxins out of your pockets from the ones you use for your sous vide preparations!
Pasteurizing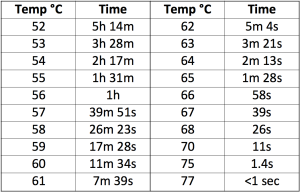 The table opposite shows the combinations of time and temperature to reduce salmonella by 99.99999%. When determining the total cooking time you have to add the time that is needed to bring the core to the desired temperature and take into account that the heating times are usually given for a core temperature that is 1 degree lower (so if the sous vide is set to 57 degrees, then use the pasteurization time for 56 degrees).
The during are shown in hours (h), minutes (m) and seconds (s). Keep in mind that a reduction of 99.99999% is sufficient in a normal situation where you have handled the food normally. For example, if you first kept the food at 41 degrees for a long time (so that the salmonella grows to the maximum), 99.99999% may not be enough.
Furthermore, it is of course also important that the thermometer of your sous vide is properly calibrated and the temperature is kept constant. If you want to serve red steak to a pregnant woman and you are unsure about the temperature of your sous vide, it is best to be sure to take the time for 1 or 2 degrees lower. Source: https://sousvidekoken.blog/2018/05/10/veilig-sous-vide-koken/
Other sources
https://www.chefsteps.com/activities/sous-vide-a-simple-and-stress-free-way-to-reheat-almost-anything
https://www.huffingtonpost.com/craig-goldwyn/usda-pork-beef-temperature_b_867143.html?guccounter=1
https://sousvidehub.com/freezing-sous-vide-meat-cook/
https://www.kokswereld.nl/forum/viewtopic.php?t=6336
https://www.sousvide-voorthuiskoks.com/food safety