Meater + smart wireless meat thermometer (with app, approx. 50 meter range)
Meater: Simple to set up, simple to use
The Meater is the first truly wireless smart meat thermometer. Together with the Meater app, it helps you to prepare the juiciest steak, chicken, turkey, fish or other meat perfectly, every time and for every occasion. The temperature sensor is extremely accurate and the probes are very easy to clean after use. Up to 10 m wireless range and with the Meater + even up to 50 meters!
It really is as simple as 1,2,3
Insert the probe into the meat, poultry or fish
Search the desired preparation in the app
Bake, grill, cook, poach your product however you want, follow the instructions in the app and voil¡! The app gives you an estimate of the cooking time and even takes the cooking into account.
The dual sensors measure both the internal meat temperature and the temperature close to the food with an accuracy of +/- 0.5 °C. The Meater is made of durable materials: stainless steel and heat-resistant ceramic. The charger is made of wood, a beautiful bamboo box with magnetic back so you can easily attach the Meater to any metal surface. At the back of the charger is a compartment for one AAA battery that allows you to charge the probe up to 100 times. The Meater + has an extra Bluetooth repeater so you even have a range of up to 50 meters.
Need more Meaters and range?
With the Meater Block , in addition to 4 Meater probes, you also have up to 50 meters WiFi range (via your router). You can keep an eye on your meat in the garden, on the sofa or from the attic via the app. Does that sound good? Then the Meater Block is for you !
Meater Cloud
Monitor your food wherever you have internet and more!
Connects to Amazon Alexa
Share your dishes & track in real time on a Windows or Mac web browser
Advanced technical support and customer service
Meat the app
(click on the photos for a larger version)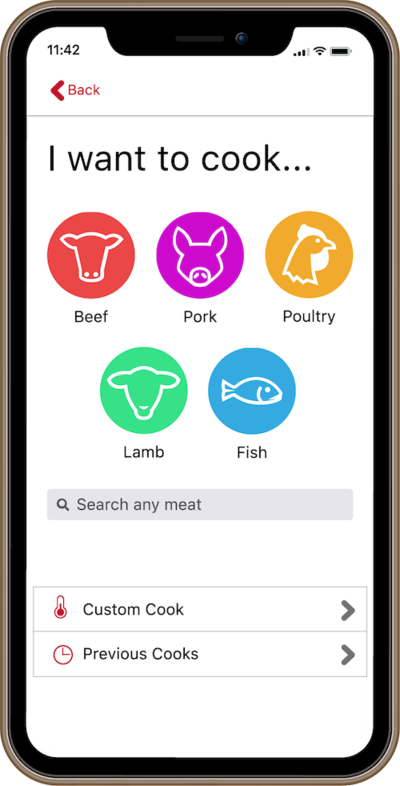 Accompaniment
Select your protein and start your dish without guesswork.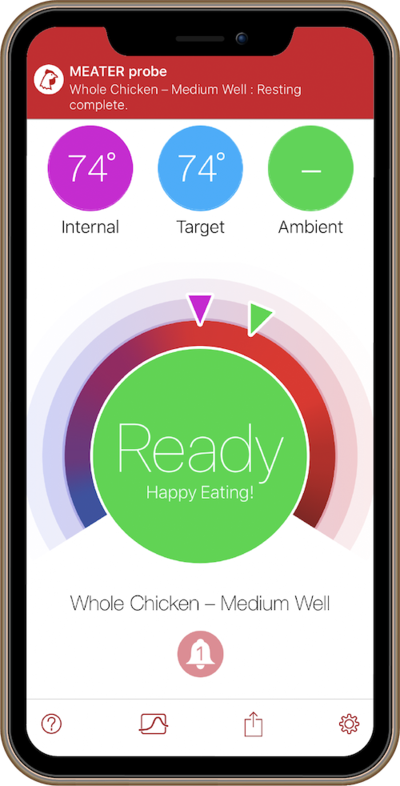 Receive notifications
Check the cooking status and receive a notification wherever your smart device has an internet connection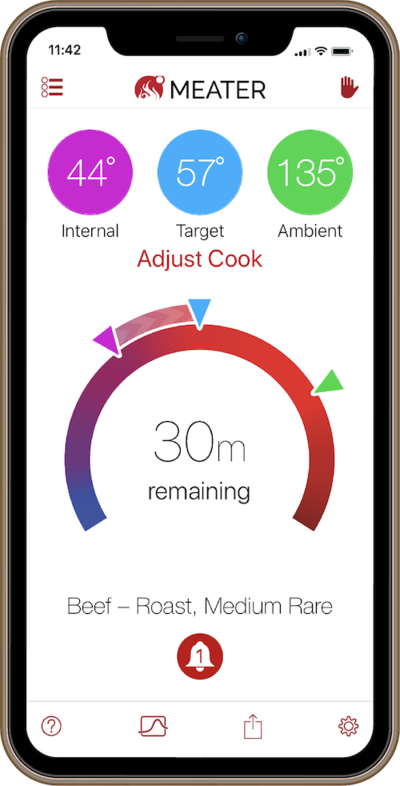 Cooking time estimate
Know when your meat is ready and manage your time better.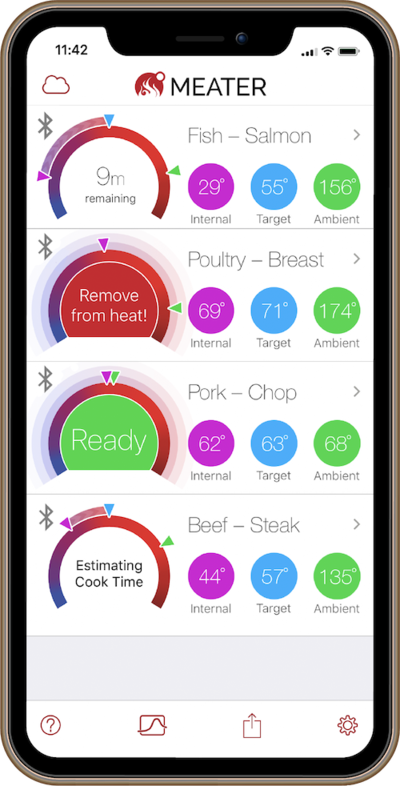 Keep an eye on several dishes at the same time
Cook different types of meat at different temperatures at the same time.
Highlights
100% wireless: no wires, no hassle. The first truly wireless smart meat thermometer.
2 sensors, 1 probe: dual temperature sensors can monitor the internal meat temperature and ambient temperature.
Guided Cook System: guide you through every step of the cooking process to ensure perfect and consistent results.
Advanced Estimator Algorithm: estimate how long you need to cook and rest your food to plan your meal and manage your time.
Connectivity Suite: control your dish from a phone or tablet via Bluetooth. Extend the wireless range with MEATER Link WiFi and the MEATER Cloud.
Product specifications
Meater probe
Durable stainless steel and ceramic construction
Water resistant and easy to cleann
Max. internal temperature: 100 °C (meat)
Max. ambient temperature: 275 °C (stove, grill, etc)
Bluetooth LE 4.0 wireless connection up to 10 meters
Meaeter Sense: 2 temperature sensors in 1 probe
Core temperature sensor range: 100 °C (212 ° F)
Ambient temperature sensor range: 275 °C (527 ° F)
Integrated rechargeable battery: more than 24 hours of continuous cooking
Dimensions 130 mm x 7 mm (6 mm diameter)
Meater charger (wood)
Storage and loading of your Meater probe
Modern sleek design, made of real wood
Wireless charger by the replaceable AAA battery
LED indicator to indicate both connection and battery status
Magnet on the back so you can place your Meater anywhere
Dimensions; 157 mm x 37 mm x 28 mm
Magnetic back: attach anywhere
Charges MEATER up to 100 times with one AAA battery
LED indicator to show battery status
Dimensions: 157 mm L x 37 mm W x 28 mm H
App requirements
iPhone and iPad apps for iOS 10.3 and above
Android app for versions 5.0 and above
The MEATER and MEATER + may also be known under the following EAN:
Meater (10m): 5060480240049
Meater + (50m): 5060480240124
Do you have any question regarding this product?